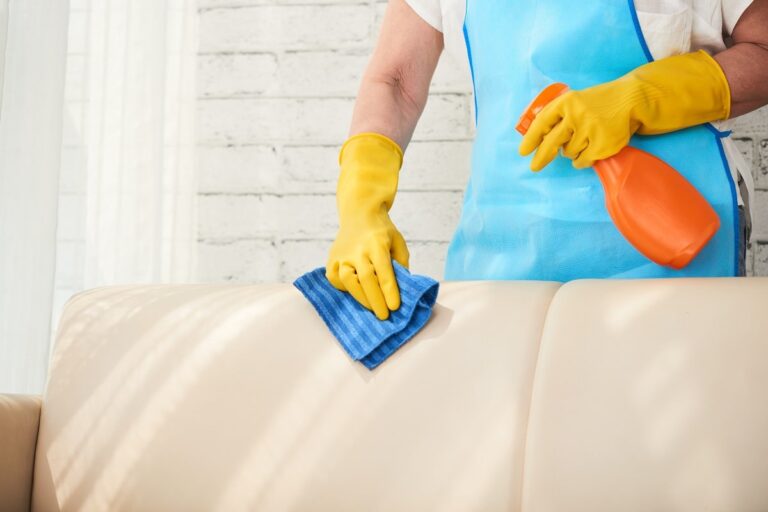 Professional Sofa Cleaning
Sofas are one of the most important pieces of furniture in our homes. They provide comfort and can be a focal point in any room. Over time, however, sofas can become stained and dirty. Professional sofa cleaning services by Selva Cleaning can help revitalize your living space and make your sofa look new again.
Selva Cleaning has been providing professional cleaning services in the UAE for over 15 years. We have a team of experienced and knowledgeable cleaners who are experts at cleaning sofas. We use only the best equipment and products to clean your sofa, and we will work diligently to ensure that your sofa is clean and looking its best.
We are aged and renewed. Our team of experienced cleaners are experts in delivering professional, high-quality sofa cleaning services in the UAE. We use only the best cleaning products and equipment to ensure that all dirt, dust, stains, allergens, and bacteria are properly removed from your sofa. We guarantee you will be pleased with the results!
Benefits of Professional Sofa Cleaning
There are several benefits to professional sofa cleaning, including:
– Improved appearance:
Professional sofa cleaning can revitalize the look of your furniture and make it look new again. This can be a great way to refresh your living space without having to invest in new furniture.
– Removal of dirt, dust, and allergens:
A professional sofa cleaning will remove all the dirt, dust, and allergens that have accumulated on your furniture over time. This can improve your indoor air quality and reduce allergies or respiratory problems.
– Extended lifespan:
Regular professional sofa cleaning can help extend the lifespan of your furniture by preventing wear and tear. This can save you money in the long run by prolonging the life of your investment.
Types of Sofa Cleaning Services Offered
Selva Cleaning offers many different types of sofa cleaning services depending on your needs. Our most popular service is our standard sofa cleaning, which is a thorough cleaning of all the nooks and crannies of your sofa. This includes getting rid of all the dirt, dust, and stains that have built up over time. We also offer a deluxe sofa cleaning service, which goes above and beyond the standard service. With this option, we will not only clean your sofa but also condition it and treat any areas that may be particularly stained or affected by wear and tear. We offer a protection plan for those who want to keep their sofas looking like new. This plan includes regular monthly cleanings as well as spot treatments for any stains or accidents that may occur between visits.
Important Considerations for Upholstery Fabric Selection
When it comes to choosing upholstery fabrics, there are a few important considerations that you need to keep in mind. Here at Selva Cleaning, we understand how important it is to choose the right fabric for your needs and we are here to help you make the best decision for your home or office.
First and foremost, you need to consider the level of wear and tear that your fabric will experience. If you have kids or pets, then you'll want to choose a durable fabric that can withstand a lot of use. For less-used areas, like formal living rooms or offices, you can choose a more delicate fabric.
Next, think about the color and pattern of the fabric. You'll want to choose something that compliments the other elements in your room, like the wallpaper, furniture, and flooring. And finally, don't forget to factor in your budget when selecting upholstery fabrics.
If you keep these important considerations in mind, then you're sure to find the perfect upholstery fabric for your needs!
Proper Maintain and Care for Your Sofa 
After a professional sofa cleaning service by Selva Cleaning in the UAE, it is important to properly maintain and care for your sofa to keep it looking its best. Here are some tips on how to do so:
Vacuum your sofa regularly using a soft brush attachment to remove dust and dirt.
Protect your sofa from sunlight and heat exposure by using blinds or curtains.
If spills occur, blot them immediately with a clean, white cloth. Do not rub or scrub the area, as this may cause the stain to spread.
Take care when using cleaners or chemicals on your sofa, as they can damage the fabric. Always test cleaners in an inconspicuous area first and follow the manufacturer's instructions carefully.
Common Problems Addressed with Professional Sofa Cleaning Services
If your sofa is starting to look a little worse to wear, it may be time to call in the professionals. While there are several ways to clean your sofa yourself, sometimes it's best to leave it to the experts. Here at Selva Cleaning in the UAE, we offer professional sofa cleaning services that can help address a range of common problems.
Whether your sofa is stained, odorous, or just in need of a good deep clean, our team can help. We use high-quality cleaning products and state-of-the-art equipment to clean your sofa deep down, leaving it looking and smelling fresh and new. We can also treat specific problems such as pet stains or cigarette smells.
So, if your sofa needs a little TLC, don't hesitate to give us a call. Our professional sofa cleaning services will have your furniture looking like new in no time!
Selva Cleaning is a great option for those who want to revitalize their living space with professional sofa cleaning services in the UAE. Whether you have a sofa that may need special attention or just want to ensure your loved ones are sitting on clean cushions, Selva Cleaning can help by providing high-quality and affordable services. Get in touch today to start transforming the look of your living room!
What Should I Do to Get Ready for a Sofa Upholstery Cleaning Service?
To clean every crevice of the sofa, we have a variety of tools at our disposal. Professional, Reliable, and Experienced Sofa Cleaning Sharjah.
Plutonic cleaning services are one of your best options if you're searching for reliable and vibrant couch cleaning services in Dubai, Sharjah, and Ajman.
We don't recommend or use any chemicals that might endanger your health or the health of your children to ruin your leather or clothes.
For Upholstery Cleaning Services / Deep Sofa Cleaning Services in Sharjah, Plutonic Cleansing Company uses German and Italian base machines.
Your couch is contaminated and polluted by dirt particles, dust mites, and bacteria.
To keep your couch free of air pollution and to extend its life, experts advise cleaning it once every six months.
Your couch will be cleaned by our sofa-cleaning professionals in the United Arab Emirates.
To remove lint or pet hair that to hoover is unable to pick up, we use a lint roller. We employ superior chemical agents to eliminate any stains or spots that may exist.
A team of four security guards led by Waqar was at my property for 7 hours to spotless our air conditioning system.
Two simple clicks will reserve professional cleaning services!
Please be aware that the businesses that provide you with quotes may share your contact information with them in case they need to reach out to you for more details or inquiries.
They were clear about their tasks from the quotation through the implementation. Usually, they made sure I knew what was being achieved.
I personally observed the earlier than and after, and I am ecstatic with the service provided. Professional & and quick, I heartily endorse the business & and the service.
Our experts can clean, wash, sanitize, and remove stains from your sofa while preserving its distinctive color, texture, or appearance, making it appear brighter and fresher than before. Couch cleaning Mud and stains are the areas of the sofa that are most noticeable after cleaning.
To completely get rid of the bugs and bacteria, however, requires thorough cleaning. Although they are difficult to notice, their presence might compromise your environmental hygiene.
We frequently see professional cleaning services or material couch cleaning as a crucial component of home maintenance.
Hire a reputable couch-cleaning business in Dubai to handle all your cleaning needs.
While we all regularly clean our homes in Dubai, the furniture in our homes occasionally needs a full cleaning.
Service Market provides skilled sofa cleaning services to Dubai residents as a result.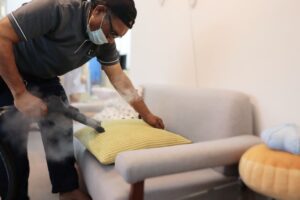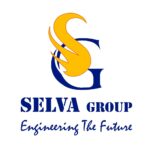 Sofa Cleaning Dubai Are you tired of staring at that stained and dingy sofa in your living room? Do you wish to bring back the
Read More »