Commercial Building Painting Services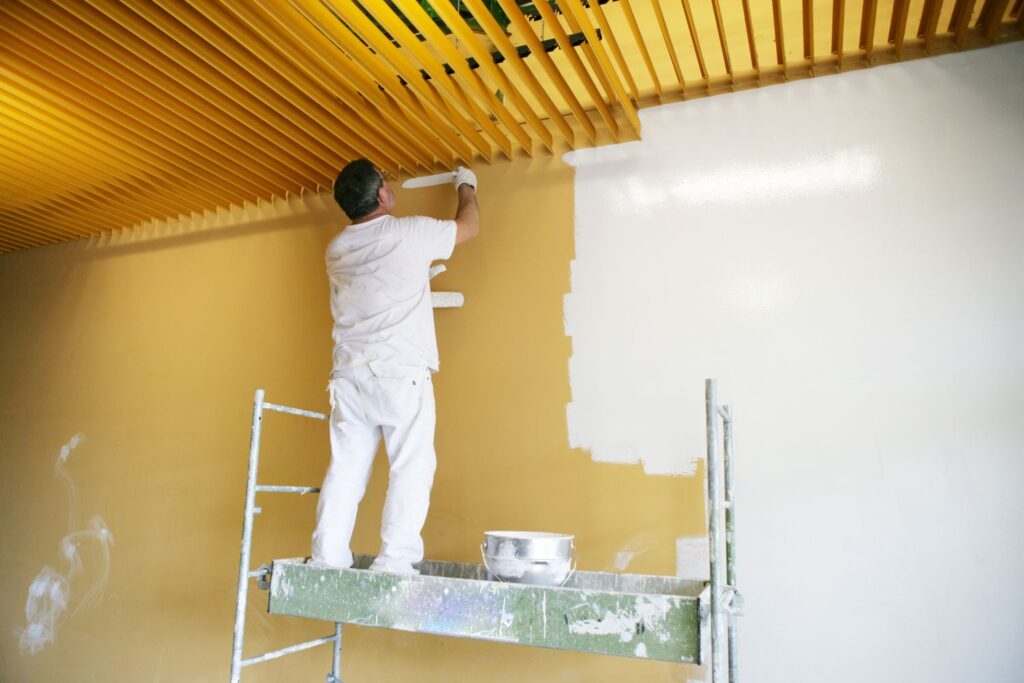 Are you tired of walking into a dull and lifeless commercial space every day? Are you looking to give your business a fresh and vibrant makeover that will leave your clients and employees in awe? Look no further, because Selva Cleaning's top-notch building painting services are here to transform your commercial space into a masterpiece! From the first brushstroke to the final touch-up, our team of skilled painters is dedicated to bringing out the true potential of your property. Get ready to make a lasting impression with Selva Cleaning – where stunning transformations happen one coat at a time!
Why Choose Selva Cleaning?
Experienced Professionals:
Our team consists of skilled technicians with extensive experience in the industry. They undergo regular training to keep up with the latest techniques and trends in building painting.
Premium Materials:
We use only top-quality materials from trusted brands for all our projects. This ensures superior results that meet international standards.
Customized Solutions:
At Selva Cleaning, we understand that every commercial space is unique. That's why we offer customized solutions tailored to suit each client's specific needs and budget.
Importance of regular painting for commercial buildings
Commercial buildings are not just a place of business, they are also a reflection of the company's values and brand image. In today's competitive market, it is crucial for businesses to maintain their commercial space not only for aesthetic purposes but also for practical reasons. Regular painting is one of the most effective ways to ensure that your commercial building remains in top condition, both inside and outside.
Firstly, regular painting helps to protect the exterior of the building from harsh weather conditions. The sun, rain, and wind can cause damage to the paint on commercial buildings over time. This not only affects the appearance of the building but also its structural integrity. Fading or peeling paint can lead to cracks and other forms of damage that could end up being costly repairs if left unaddressed. By regularly repainting your building's exterior, you create a protective barrier against these elements, ensuring that your building stays in good condition for years to come.
In addition to protection against weathering, regular painting also helps prevent wear and tear caused by everyday use. Commercial buildings experience high levels of foot traffic which can take a toll on walls and surfaces over time. This includes scuff marks, scratches, stains, and other signs of wear that can make your building look dull and uninviting. By regularly repainting your interior walls and surfaces, you keep them looking fresh and clean, which creates a positive impression for employees as well as clients or customers.
Benefits of choosing Selva Cleaning
When it comes to choosing a painting service for your commercial building, there are many options available. However, Selva Cleaning stands out as a reliable and top-notch choice for all your building painting needs. With years of experience and a team of skilled professionals, here are some benefits of choosing Selva Cleaning's building painting services:
Superior Quality Work:
One of the primary reasons to choose Selva Cleaning for your building painting needs is their dedication to delivering high-quality work. They use only the best quality paints and tools, ensuring that your building gets a professional finish that will last for years to come.
Extensive Experience:
Selva Cleaning has been providing painting services for over 15 years, giving them valuable experience in dealing with different types of buildings and surfaces. This experience has equipped them with the necessary skills and knowledge to handle any complex or challenging projects efficiently.
Customized Solutions:
Every commercial space is unique, and so are its painting requirements. At Selva Cleaning, they understand this fact and provide customized solutions tailored to meet the specific needs of each client. They consider factors like budget, timeline, color preferences, etc., while developing a plan that works best for your building.
Cost-Effective Services:
Painting an entire commercial building can be an expensive affair if not done correctly. However, with Selva Cleaning's competitive pricing strategy and excellent workmanship, you can save both time and money without compromising on quality.
High-quality materials and equipment used
At Selva Cleaning, we believe that using high-quality materials and equipment is crucial in delivering top-notch building painting services to our clients. Our commitment to quality extends beyond just the result and includes every step of the process, from preparation to application.
One of the reasons why we can consistently deliver exceptional results is that we only use premium quality paints and materials. We source our supplies from trusted suppliers who share our values of excellence and reliability. This ensures that the paints used in your commercial space not only look great but also stand up to wear and tear.
In addition to using top-of-the-line paints, we also invest in high-quality equipment for all our painting projects. Our team constantly stays updated with industry best practices and uses advanced tools and techniques to achieve a flawless finish. From airless sprayers to precision masking tapes, we have all the necessary equipment at hand to tackle any size or complexity of the project with ease.
Moreover, using superior materials and equipment not only improves the overall aesthetic appeal of your commercial space but also has long-term benefits such as increasing its durability. By using top-quality exterior paint for your building, for example, we ensure that it can withstand harsh weather conditions without fading or peeling for years to come.
Our team consists of experienced painters who are trained in handling these materials and equipment with utmost care. They understand how different types of paints interact with surfaces and how proper preparation can make a significant difference in the result. By combining their expertise with high-quality materials and equipment, we guarantee a professional, long-lasting finish every time.
Customized solutions for every project
Selva Cleaning understands that every building is unique and has its own set of painting requirements. As a result, we offer customized solutions to all our clients to meet their specific needs and budget.
Our team works closely with you to understand your vision and requirements for the project. We take into consideration various factors such as the size of the commercial space, the type of surface, budget constraints, and other aesthetic preferences to create a tailored plan that meets your needs in terms of quality and affordability.
Additionally, we offer our clients a variety of finishes to choose from. Our painters have the expertise to achieve different types of finishes including smooth finishes, textured effects, decorative designs, and special effect paints such as metallics or pearlescent, among others. This allows us to deliver highly personalized painting solutions that not only enhance the appearance of your commercial space but also align with your style and brand identity.
Experienced and skilled painters
At Selva Cleaning, we pride ourselves on offering top-notch building painting services. Our team of experienced and skilled painters is dedicated to transforming your commercial space into a beautifully refreshed and inviting environment.
With years of experience in the industry, our painters have worked on a variety of projects ranging from small offices to large multi-story buildings. They are well-versed in all aspects of building painting, including interior and exterior surfaces, different types of paint finishes, and techniques for achieving flawless results.
One of the key factors that sets our painters apart is their attention to detail. We understand that every client has specific requirements and preferences when it comes to painting their commercial space. That's why we take the time to listen to your needs and work closely with you to ensure that every detail is taken care of.
Our team also stays up to date with the latest trends and innovations in painting techniques. This allows us to offer a wide range of options for your commercial space, from classic colors and finishes to more modern and unique styles. No matter what look or feel you want for your building, our experienced painters have the skills and knowledge to bring your vision to life.
In addition to their expertise in painting techniques, our team also possesses extensive knowledge about different types of paints and materials. We use only high-quality paints that are specifically designed for commercial spaces, ensuring long-lasting durability and a professional finish. Our skilled painters will advise you on the best type of paint for your project based on factors such as your budget, the type of surface to be painted, and the specific requirements of your commercial space.
At Selva Cleaning, we understand that time is of the essence for our clients. That's why we offer flexible scheduling options to minimize any disruption to your business operations. Our team will work around your schedule to ensure that your building painting project is completed on time and with minimal disruption.
In addition to our top-notch services, we are committed to providing exceptional customer service. We take great pride in our reputation as a trusted building painting company, and we strive to maintain this by ensuring that each client receives personalized attention and excellent service from start to finish.
Timely completion of projects
At Selva Cleaning, we understand the importance of meeting project deadlines in the fast-paced commercial environment. That's why we pride ourselves on our ability to complete projects in a timely manner without sacrificing quality.
We have a team of highly skilled and experienced painters who are equipped with the latest tools and techniques to ensure the efficient completion of projects. Our project managers work closely with clients to create a detailed timeline that takes into consideration their specific needs and requirements.
To ensure timely completion, we follow a systematic approach to all our painting projects. This includes thorough planning, preparation, and execution phases. In the planning phase, our team assesses the scope of work, materials needed, and any potential challenges that may arise during the project.
During the preparation phase, we take necessary steps such as surface cleaning, patching, and filling any cracks or holes, and covering furniture and fixtures to protect them from paint splatters. We also use high-quality primers that not only enhance paint adhesiveness but also help reduce the time for drying between coats.
When it comes to painting execution, our team follows strict timelines to ensure maximum efficiency. Our painters are well-trained in using different painting techniques such as rolling, spraying, or brushing depending on the type of surface and finish desired. Furthermore, we keep clients updated on progress throughout each stage of the project so they can rest assured that everything is going according to plan.
Our commitment to completing projects on time extends beyond just finishing within deadline dates. We also strive for excellence in every aspect of the project, including efficient use of resources, effective communication, and resolving any issues that may arise quickly to avoid delays.
Competitive Pricing
At Selva Cleaning, we understand that cost is an important factor when it comes to choosing a building painting service for your commercial space. That's why we strive to offer competitive pricing without compromising on the quality of our work.
When it comes to pricing, our team conducts a detailed assessment of the scope of work required for each project. We take into consideration factors such as the size and condition of the building, the type of paint needed, and any specific requirements from the client. This enables us to provide accurate and fair pricing for our services.
We also believe in transparency when it comes to our pricing. Our team will provide you with a detailed breakdown of the costs involved so that you can have a clear understanding of where your money is going. We aim to avoid any hidden fees or surprises during the process.
But don't just take our word for it – we invite you to compare our prices with other building painting services. Our customers often find that despite offering top-notch services, we are able to offer affordable prices compared to others in the market.
One aspect that sets us apart from our competitors is our use of high-quality materials at no extra cost. We believe in using premium paints and tools that not only give your commercial space a beautiful finish but also ensure longevity and durability. This ultimately saves you money in the long run by reducing maintenance costs.
We also offer flexible payment options tailored to suit your budgetary needs. Whether you prefer paying upfront or in installments throughout the project, we are happy to accommodate your needs.
Process of Selva Cleaning's building painting services
Selva Cleaning offers top-notch building painting services, catering to commercial spaces of all sizes. Our team of skilled and experienced painters is committed to transforming your space with a fresh coat of paint that not only enhances its appearance but also protects it from wear and tear.
The process of painting a commercial building may seem like a daunting task, but our streamlined approach ensures efficiency, precision, and minimal disruption to your business operations.
Step 1: Site Visit and Inspection
Our first step is to conduct a thorough site visit and inspection. This allows us to understand the size, scope, and specific requirements of your building. We take note of any structural issues or repairs needed before commencing the painting process.
Step 2: Preparing the Space
To ensure a smooth painting process, our team takes special care in preparing the space by covering floors, furniture, and fixtures with protective sheets. We also remove any obstacles that may hinder our work.
Step 3: Surface Preparation
Before we start painting, we make sure that all surfaces are properly prepared. This includes cleaning off dirt, grime, grease stains, and other imperfections such as cracks or holes. We also sand down uneven surfaces for a smooth finish.
Step 4: Priming
Once the surface is properly prepped, we apply a primer layer on all walls to provide better adhesion for the paint and ensure a longer-lasting finish.
Step 5: Painting
We use high-quality paints from trusted brands that offer a range of color options. Our team applies the paint using advanced techniques, such as spraying and rolling, to achieve an even and professional finish.
Step 6: Touch-Ups and Clean-Up
After we have applied the initial coat of paint, we perform touch-ups to ensure that every corner is covered with precision and attention to detail. Once completed, we clean up the space, removing any protective sheets and returning furniture to its original position.
Step 7: Final Inspection
We conduct a final inspection with you to ensure your satisfaction with our work. In case of any minor touch-ups needed or any areas that require further attention, we address them promptly.
Selva Cleaning's building painting services are tailored to meet your unique needs and exceed your expectations. With our experienced team, high-quality materials, and systematic approach, we guarantee a flawless painting job for your commercial building.
Inspection and assessment of the building
When it comes to maintaining a commercial space, keeping the building in good condition is crucial for creating a positive and professional image. This not only involves routine cleaning and maintenance but also includes regularly inspecting and assessing the building's structure to identify any potential issues that may require attention.
At Selva Cleaning, we understand the importance of a well-maintained building, which is why our painting services go beyond just adding a fresh coat of paint. Our team of experts also specializes in the inspection and assessment of buildings, ensuring that your commercial space is in top-notch condition.
The first step towards transforming your commercial space is to conduct a comprehensive inspection of the building. This allows us to identify any existing damage or signs of wear and tear, such as cracks, chipping paint, water damage, or mold growth. We use advanced techniques and tools to thoroughly assess the entire building – from its exterior facade to interior walls and ceilings.
Our team carefully examines every area of the building, including hard-to-reach spots like roofs and high-rise areas. We pay close attention to details and document all findings to create a customized plan for addressing any issues found during the inspection process.
After completing the inspection, our team creates an assessment report outlining all necessary repairs or maintenance required for your building's structure. This report includes detailed information on each identified issue with recommended solutions and estimated costs.
We prioritize safety during this process by following all necessary precautions while examining high-risk areas. Our team is trained in using safety equipment and has extensive experience working with commercial buildings of all types and sizes.
Professional painting services
Once the inspection and assessment are completed, we then move on to our specialty – professional painting services. Whether it's a small office space or a large commercial building, our team has the skills and expertise to handle any project.
We use high-quality paints and equipment to ensure a smooth and long-lasting finish for your walls, ceilings, doors, and other surfaces. Our team is trained in various painting techniques and can offer suggestions on color choices based on your desired aesthetic and brand identity.
We specialize in both interior and exterior painting services, so whether your building needs a fresh coat of paint or a complete color change, we've got you covered. Our team works efficiently without compromising on quality to minimize any disruption to your business operations.
In addition to traditional painting methods, we also offer advanced options such as textured coatings, epoxy coatings for concrete floors, waterproofing solutions for exterior walls, and more.
Structural repairs
As part of our comprehensive maintenance services for commercial buildings, Selva Cleaning also offers structural repairs. We understand that maintaining the integrity of a building's structure is essential for its longevity.
During our inspection process, if our team finds any structural issues like cracks in the foundation or damaged walls, we can provide all necessary repairs to restore the building's stability. Our team has experience in repairing a variety of structural issues and uses the highest quality materials and techniques to ensure long-lasting results.
Ongoing maintenance services
Given the constant wear and tear those commercial buildings face, ongoing maintenance is necessary to keep them in top condition. At Selva Cleaning, we offer ongoing maintenance services to help preserve the beauty and functionality of your building.
Our maintenance services include regular cleaning, repainting, touch-ups, and any necessary repairs. We work with your schedule to minimize disruption to your business operations while ensuring that your building remains in excellent condition.
Overall, our comprehensive painting and building maintenance services are designed to take care of all aspects of maintaining a commercial space. With Selva Cleaning, you can trust that your building will always look its best, leaving a lasting impression on clients and visitors alike.
Customized color consultation and planning
At Selva Cleaning, we understand that the color of your commercial space plays a crucial role in creating the right atmosphere and impression for your business. Whether you are looking to attract customers, boost productivity, or simply refresh the look of your building, our customized color consultation and planning services can help you achieve your desired results.
Our team of expert painters has years of experience in working with various types of commercial spaces such as offices, retail stores, restaurants, hotels, and more. We understand that each business has its unique branding and vision, which is why we tailor our color consultation and planning services to meet your specific needs.
The first step in our process is to conduct an on-site visit to assess your building's exterior or interior space. Our team will listen to your ideas and goals for the project while also taking into consideration other factors such as lighting conditions, surrounding environment, and architectural features. This initial consultation allows us to get a better understanding of your business's personality and helps us create a customized painting plan that reflects it.
Once we have gathered all the necessary information from our on-site visit, our team will present you with a detailed proposal that includes recommended colors, finishes, techniques, and a timeline for the project. We collaborate closely with our clients during this stage to ensure their vision is accurately captured in the plan. If needed, we can provide color samples or create mock-ups using computer-generated visualizations so you can see how the result may look like before starting any work.
One of the reasons why our color consultation and planning services stand out is that we do not believe in a one-size-fits-all approach. Our goal is to provide each client with a unique, cohesive, and aesthetically pleasing color scheme that truly represents their business. From bold and vibrant colors to soft and muted tones, we have the expertise to help you choose the perfect palette that aligns with your brand's message.
At Selva Cleaning, we are committed to delivering high-quality painting services while also adhering to strict safety guidelines. We use only top-of-the-line products and apply efficient techniques to ensure a flawless finish that lasts for years.
If you want to elevate the appearance of your commercial space with customized color consultation and planning services, please contact Selva Cleaning today. We are happy to answer any questions you may have about our process and provide you with a free estimate for your project. With us as your partner, you can be confident that your business's painting needs are in capable hands.