Sanitization Services in UAE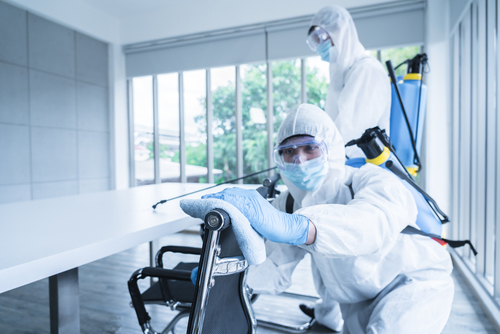 If you're looking for professional housemaid services in the United Arab Emirates, look no further than Selva Cleaning. Our team of experienced and trained maids provides a wide range of services to keep your home clean and tidy, from dusting and vacuuming to laundry and ironing. We also offer deep cleaning services for those times when you need a thorough cleaning.
Whether you live in Dubai, Abu Dhabi, Sharjah, or any other emirate, we can provide you with a maid who will meet your specific needs. We understand that every home is different, which is why we offer a tailor-made service to each of our clients.
If you're not sure what type of housemaid service you need, our team can advise you on the best options for your home. We'll consider the size of your property, the number of occupants, and your cleaning requirements. We'll also work with you to schedule a convenient time for our maids to come and carry out their tasks.
When it comes to payment, we offer flexible options to suit your budget and needs. You can pay by the hour or by the month, whichever suits you best. And if you're not happy with our services, we offer a money-back guarantee so that you can be confident in using Selva Cleaning.
Benefits
There are numerous benefits of hiring housemaid services from Selva Cleaning in UAE. Below are some key reasons to consider our services:
We offer comprehensive cleaning services that cover all aspects of your home, from dusting and mopping to vacuuming and window cleaning.
We only use eco-friendly cleaning products that are safe for your family and pets.
Our maids are well-trained and experienced in providing top-notch cleaning services.
We offer flexible schedules so you can choose a time that is convenient for you.
We offer affordable rates without compromising on quality or service.
Our services are reliable and trustworthy so you can trust us with your home and belongings.
If needed, we also provide after-service follow-up to make sure our work is up to your standards.
Types of Housemaids
Selva Cleaning offers a wide range of housemaid services to suit your needs. We have a team of experienced and professional housemaids who are trained to provide the best possible service. We offer a variety of services, including:
Regular cleaning:
This is our most popular service and includes general cleaning tasks such as dusting, vacuuming, mopping, and laundry.
Deep cleaning:
This service is ideal for homes that need a thorough cleaning. Our team will focus on areas that are often overlooked, such as under furniture and in nooks and crannies.
One-time cleaning:
Maybe you're hosting a special event or preparing for guests. Our one-time cleaning service will give your home the attention it deserves.
Move-in/out cleaning:
Moving can be stressful enough without having to worry about cleaning your old or new home. Let us take care of it with our move-in/out cleaning service.
Hiring the Perfect Housemaid
When it comes to hiring a housemaid, there are a few steps involved that you would need to take to ensure that you find the perfect candidate for the job. Below, we have outlined the steps that you need to take to hire the perfect housemaid.
Define your requirements:
The first step is to sit down and define your exact requirements. This includes things like what tasks you need them to perform, how many hours per week you need them to work, etc. Once you have a clear idea of what you are looking for, it will be much easier to find the right candidate.
Write up a job description:
Once you know what you are looking for, the next step is to write up a formal job description. This should include all your requirements as well as any other relevant information that potential candidates might need to know.
Post your job online:
The next step is to post your job online on websites like Indeed or Craigslist. This will allow you to reach a large pool of potential candidates and increase your chances of finding the perfect housemaid.
Screen candidates:
Once you start receiving applications, it is important that you screen each candidate carefully. Make sure to conduct phone interviews and ask for references to get a better sense of who they are and if they would be a good fit for the job.
Choose the right candidate:
After conducting interviews and screening candidates, it is important to choose the right candidate for the job. Consider all the information that you have gathered and make sure that you select the best person for the position.
Following these steps will help ensure that you find the perfect housemaid for your needs. Good luck!
Pricing
The cost of housemaid services provided by Selva Cleaning in UAE can vary depending on several factors, including the number of hours required, the number of maids needed, the frequency of service, and the specific tasks to be performed. In general, however, Selva Cleaning charges a very competitive rate for our services.
For example, if you require maid service for just a few hours each week to take care of basic cleaning and tidying tasks, you can expect to pay around AED 200-250 per month. If you need more comprehensive cleaning services on a daily or weekly basis, we can provide customized packages to suit your needs and budget. Prices for these kinds of packages start at around AED 1,000 per month.
Selva Cleaning is one of the most affordable and reliable housemaid service providers in the UAE. With years of experience in the industry, we can offer high-quality services at very competitive rates. Whether you need occasional help with cleaning and tidying or more comprehensive daily or weekly packages, Selva Cleaning is worth considering.
How to Choose the Right Housemaid?
When it comes to housemaid services, there are a lot of factors to consider ensuring that you're choosing the right company. Here are a few tips from Selva Cleaning to help you make the best decision for your needs:
Determine what type of cleaning services you need. Do you need a one-time deep clean or regular cleaning services? This will help you narrow down your options.
Consider your budget. How much can you afford to spend on housemaid services? Make sure to get cost estimates from multiple companies before making your final decision.
Ask about the company's policies and procedures. What kind of training do their employees receive? What is their policy for background checks? These are important factors to consider when entrusting someone with access to your home.
Read online reviews. See what others have said about their experience with different housemaid service providers. This can give you valuable insights into each company's strengths and weaknesses.
Schedule an initial consultation with your top choices. This will give you a chance to meet the maids and get a feel for their personalities and how they would fit into your home dynamic before making a final decision.
Create a Positive Working Relationship
When you're looking for a housemaid service in the UAE, it's important to find one that you can trust and feel comfortable with. Here are some tips on how to create a positive working relationship with your housemaid:
Communicate openly and honestly with each other. This includes letting your maid know what your expectations are and giving feedback on their work.
Respect each other's privacy and space. Your maid should have access to their own room or living quarters where they can have some privacy and downtime.
Build a schedule that works for both of you. Make sure to discuss your availability and any days/times that won't work for you in advance so that your maid can plan around it.
Be flexible when things come up. If there's an unexpected issue or problem, be willing to work with your maid to solve it instead of getting upset or angry.
Have realistic expectations. Keep in mind that your maid is not superhuman – they're human just like you! – so don't expect them to be perfect all the time.
Prepare Your Home for a Housemaid Service
If you have decided to take the plunge and hire a housemaid service, congratulations! This is a big decision that will free up your time and energy so that you can focus on the things that matter most to you. But before the maids arrive, there are a few things you need to do to prepare your home.
Do a deep clean:
This may seem like an obvious one, but it's worth mentioning. You want the maids to start with a clean slate, so do a thorough cleaning of your home before they arrive. This includes dusting, mopping, vacuuming, and anything else you can think of.
Declutter:
Clutter can be both physical and mental. Take some time to declutter your home before the maids arrive. This means getting rid of any unused or unneeded items, as well as any negative thoughts or feelings that may be weighing you down.
Make a list:
Sit down and make a list of all the tasks you would like the maids to do each week. Be as specific as possible so that there is no confusion later. If possible, divide the tasks up by room or area of the house.
Communicate:
Once you have made your list, it's important to communicate it to the maids clearly. Let them know what your expectations are and what days/times they will be expected to work. If there are any special requests or preferences, make sure to let them know.
Set up:
Set up any cleaning supplies or products you have in an easy-to-access area. If the maids need to use a ladder for any reason, make sure it is set up and ready for them. And don't forget to check that the vacuum cleaner works properly!
Prep your schedule:
If possible, try to coordinate your work schedule with the maids so that you can be present while they are making their rounds. This will enable you to answer any questions they may have and help keep things running smoothly.
Following these steps will ensure that your home is ready for your housemaid service and help ensure a smooth transition into having help in your home. Best of luck!