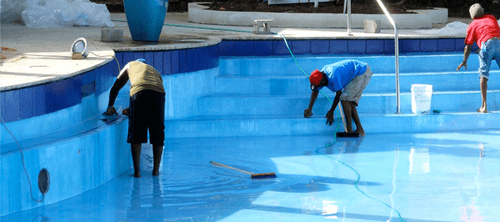 Swimming Pool Maintenance
A Your pool needs customary upkeep. That is why it pays to build a solid fundamental comprehension of pool support basics. selva At the point when you realize how your pool functions, the ideal approaches to focus on it, and how to get ready for it, you'll prepare to settle pretty much any potential pool issue that coasts your direction. 
SELVA GROUP guarantees water liberates from flowing or settled particles eliminating them through attractions clearing. These administrations are dependable and accessible at an entirely sensible expense, whether it be luxurious residential villas or business buildings, warehouses, motels, colleges, or office towers. We also can clear your sinks, drains, and water tank on an annual basis.
 Perhaps most significantly, they encompass each emergency callout for sudden breakages, leaks, or failures, as well as routine callouts for all these little upkeep jobs that crop up over time. Then we create a maintenance contract with a pre-determined number of annual visits. I would suggest Arabian swimming pools for swimming pool construction and maintenance.
The most significant convenience that pulls in everybody in any private or business property is the presence of a pool.
SELVA GROUP gives this pool support a specialized master in our whole venture.
Our pool expert's significant objective is to keep the pool spotless, proficient, and protected with routine pool upkeep administrations.
Clean water and adjusted water science are the keys to pool support.
We build up a weekly schedule to clean the pool and keep up the water balance.
Shock treatment would never be a significant pool issue.
Frequent checking of esteem and the accessibility of chlorine in the pool water
Add algaecide to the pool to avoid green growth during stormy seasons