Professional Oven Cleaning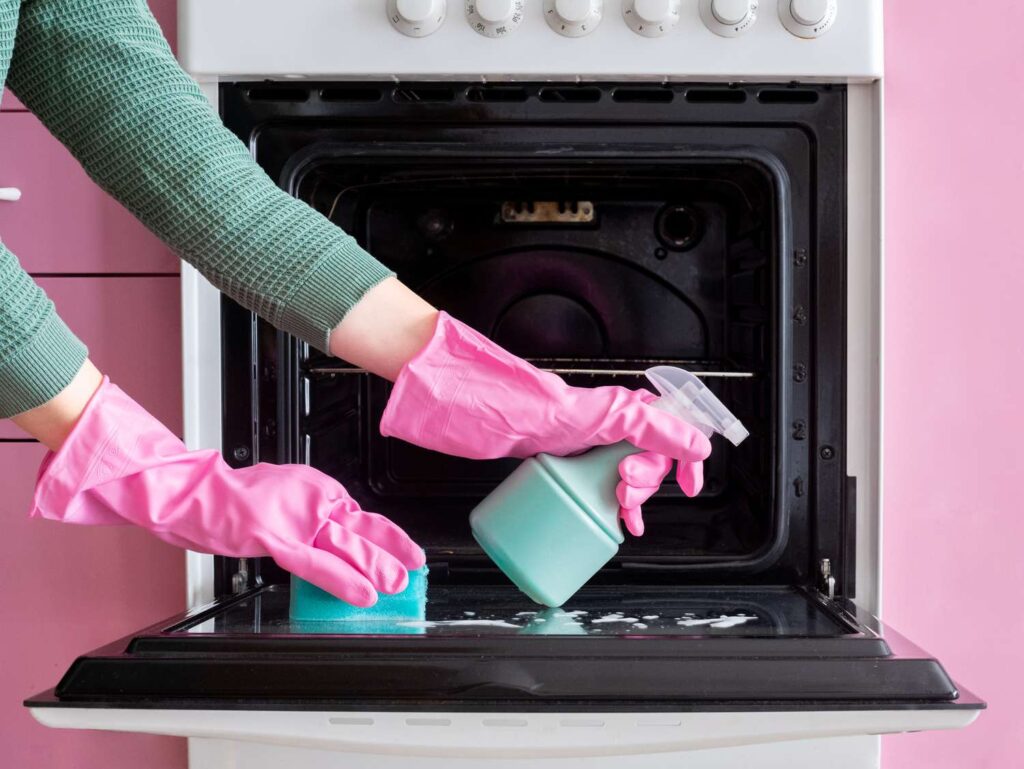 Looking for a reliable and affordable oven-cleaning service in the UAE? Look no further than Selva Cleaning! We are experts in oven cleaning and can get your oven looking like new again in no time.
There are many benefits to having a clean oven, including improved cooking performance, reduced energy consumption, and extended appliance life. A dirty oven can also be a health hazard, so it is important to keep it clean and free of food debris.
At Selva Cleaning, we use only the best products and equipment to clean your oven. We also offer a satisfaction guarantee, so you can be sure you're getting the best possible value for your money.
Reasons for Professional Oven Cleaning Services
If you're like most homeowners, you don't give your oven much thought – until it's time to use it for a big holiday meal or dinner party. Then, you realize just how dirty it is! The good news is that there are professional oven-cleaning services that can make your life easier. Here are four reasons to consider using one:
You'll save time and energy.
Cleaning an oven takes a lot of time and effort – two things that most people don't have a lot of nowadays. When you hire a professional cleaning service, you can free up your time to do other things.
Your oven will be clean and spotless.
A professional cleaning service will make sure your oven is sparkling clean, inside, and out. They have the knowledge and experience to get the job done right.
You won't have to worry about toxic chemicals.
Many commercially available oven cleaners contain harsh chemicals that can be dangerous to use in your home. When you hire a professional service, they will use eco-friendly cleaning products that are safe for your family and the environment.
It's affordable!
Many people think that hiring a professional cleaning service is too expensive, but this simply isn't true. In fact, when you compare the cost of buying all the necessary supplies and taking the time to clean your oven yourself, you'll see that it's quite affordable. Plus, you'll be able to enjoy peace of mind knowing that your oven is sparkling clean.
Benefits
If you are thinking of hiring a professional oven cleaning service, there are many benefits that you can enjoy. Here are some of the top benefits that come with using a professional oven cleaning service:
They Can Help You Avoid Costly Repairs
One of the main benefits of using a professional oven cleaning service is that it can help you avoid costly repairs. Over time, your oven will start to collect grease and grime, which can lead to parts wearing out or breaking. By having your oven cleaned regularly, you can avoid these expensive repairs.
They Can Extend the Life of Your Oven
Another benefit of using a professional oven cleaning service is that it can extend the life of your oven. When you have your oven professionally cleaned, all the dirt and grime will be removed, which will help to lengthen its lifespan. This means that you won't have to replace your oven as often, saving you money in the long run.
They Can Improve the Efficiency of Your Oven
When your oven is full of dirt and grime, it must work harder to heat up food properly. This means that it uses more energy, which can end up costing you more money on your energy bills. Having your oven cleaned regularly will help to improve its efficiency so that it uses less energy and helps you save money.
What to expect from Professional Service?
When it comes to oven cleaning, it is best to leave it to the professionals. Selva Cleaning is a leading provider of professional oven cleaning services in the UAE. We have a team of highly experienced and skilled cleaners who use the latest equipment and techniques to clean your oven quickly and efficiently.
Here's what you can expect from our professional oven-cleaning service:
A thorough clean: Our cleaners will clean every nook and cranny of your oven, including the door, racks, interior walls, and fan.
Quick and efficient service: We understand that you're busy and you don't have time to waste. That's why we offer a quick and efficient service that will get your oven sparkling clean in no time.
Types of Services Provided
At Selva Cleaning, we provide a wide range of oven-cleaning services to suit your needs. Whether you have a small domestic oven or a large commercial one, we have the expertise and equipment to get it sparkling clean.
We offer both regular and one-off cleaning services, so you can choose the option that best suits your requirements. Our regular service includes a deep clean of your oven, hob, and extractor fan, as well as an interior and exterior clean of your fridge and freezer. Our one-off service is ideal for a deeper clean prior to special occasions or if your appliance hasn't been cleaned in a while.
All our cleaning services are carried out by our fully trained and experienced team, who use the latest eco-friendly products and techniques. We understand the importance of keeping your appliances clean and safe to use, so we always go the extra mile to ensure a high-quality finish.
Environmental Impact
If you are looking for an eco-friendly and effective oven cleaning solution, then professional oven cleaning services by Selva Cleaning in UAE is the answer. With our trained and experienced staff, we can clean your oven quickly and efficiently without causing any damage to the environment.
We use only biodegradable and non-toxic cleaning products that are safe for both humans and animals. Moreover, our oven cleaning process does not release any harmful chemicals or fumes into the air. So, you can be sure that your family is not exposed to any harmful toxins when we clean your oven.
In addition to being friendly to the environment, our professional oven cleaning services are also very affordable. We offer a variety of packages that are designed to meet your specific needs and budget.
Quality Assurance
If you are not satisfied with the cleaning services provided by Selva Cleaning, we will send a team of cleaners to your home or office to re-clean the areas that you are not happy with. We want all our customers to be completely satisfied with our services.
To ensure that our customers are always satisfied with our services, we have a quality assurance team that constantly evaluates our cleaners and their work. Our quality assurance team makes sure that our cleaners are properly trained and that they are following all the correct procedures. This way, we can be sure that every customer is receiving the same high level of service.
We also use high-quality cleaning products and equipment so that your home or office is always left looking its best. If you ever have any questions or concerns about our services, please do not hesitate to contact us. We would be more than happy to answer any of your questions.
How Often Should You Get Your Oven Cleaned?
If you're like most people, you probably don't think about cleaning your oven very often. But did you know that your oven should be professionally cleaned at least once a year?
At Selva Cleaning, we use eco-friendly and non-toxic cleaners to clean your oven quickly and efficiently. We also offer a deep cleaning service for those who need a thorough cleaning.
No matter how often you use your oven, it's important to keep it clean. Built-up grease and food can not only make your oven less effective, but it can also be a fire hazard. So don't wait until there's a problem – call Selva Cleaning today!
DIY Tips to Maintain Your Oven Spotless
If you want to keep your oven in top condition, it's important to clean it regularly. A build-up of grease and grime can not only affect the quality of your food, but it can also be a fire hazard.
Here are some tips to help you keep your oven spotless:
Make sure the oven is turned off and cool before you start cleaning.
Remove any loose dirt or debris from the oven with a damp cloth.
Use a non-abrasive cleaning agent on the inside of the oven, such as baking soda or vinegar diluted with water. Avoid using harsh chemicals, as they can damage the finish of your oven.
Use a soft brush or sponge to scrub the surfaces of the oven, being careful not to damage the enamel coating.
Rinse the oven with clean water and dry it thoroughly with a clean cloth.
Replace the racks and bakeware in the oven and close the door.
Turn on the oven to its lowest setting for several minutes to help remove any residual cleaning products or moisture from inside the appliance.
By following these simple steps, you can keep your oven clean and properly maintained.
Why Choose Selva Cleaning?
If you are looking for a reliable and professional oven cleaning company in the UAE, look no further than Selva Cleaning. Our team of experienced and certified cleaners are experts in all types of oven cleaning, from small domestic ovens to large commercial ones. We use only the latest and most effective cleaning equipment and products, so you can be sure that your oven will be spotless and look its best after we've finished with it.
We understand that everyone's time is precious, so we offer a flexible booking system that allows you to choose a time and date that suits you. We also offer a same-day service for those who need their ovens cleaned in a hurry. And because we know how important it is to keep our prices affordable, we offer some of the most competitive rates in the UAE.
So why not call Selva Cleaning today and let us take care of your oven cleaning needs? You won't regret it!