Best Deep Cleaning Service in Ajman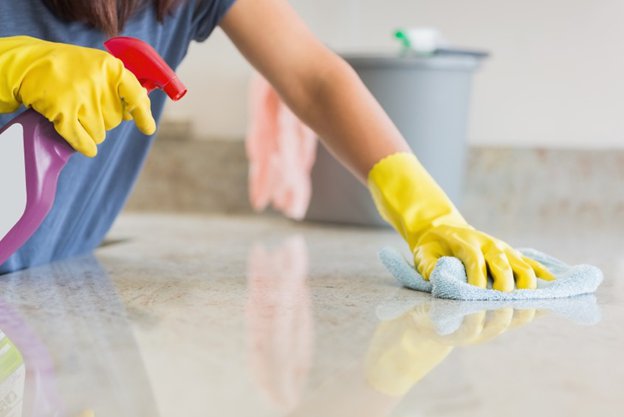 Selva Cleaning is a reputable cleaning company that offers a wide range of professional cleaning services in Ajman, including deep cleaning services. With years of experience in the industry, we have established ourselves as one of the top choices for deep cleaning services in the area.
What is Deep Cleaning?
Deep cleaning is an intensive and thorough cleaning process that involves reaching every nook and corner of your property. It goes beyond just surface-level cleaning, as it tackles dirt, grime, and bacteria build-up that may not be visible to the naked eye.
How Does Selva Cleaning Perform Deep Cleaning?
At Selva Cleaning, we follow a systematic approach when it comes to deep cleaning. Our team of trained professionals uses advanced equipment and techniques to ensure that every space in your home or office receives comprehensive cleanliness.
Consultation and Assessment
Before starting any deep cleaning service, our team will conduct an initial consultation with you to understand your unique needs and requirements. We will then assess the areas that require deep cleaning to develop a customized plan for your property.
Preparation
Before starting the actual deep cleaning process, our team will prepare your property by removing any clutter or obstacles that may hinder our work. This includes moving furniture and other items to ensure we can reach all surfaces effectively.
Thorough Dusting
Our first step towards deep cleaning is dusting all surfaces including walls, baseboards, ceiling fans, light fixtures,
Why deep cleaning is important?
Deep cleaning is an essential aspect of maintaining a clean and healthy environment for both homes and businesses in Ajman. While regular cleaning helps to keep the space tidy and presentable, deep cleaning goes a step further by targeting hard-to-reach areas, eliminating hidden germs, and removing stubborn dirt and grime.
One of the main reasons why deep cleaning is crucial for homes and businesses in Ajman is the hot and humid climate. The warm weather in this city creates an ideal breeding ground for bacteria, mold, and other allergens. These pollutants can easily find their way into our living or working spaces, causing health hazards for residents and employees.
Additionally, with the increasing emphasis on hygiene standards due to the COVID-19 pandemic, it has become more vital than ever to maintain a clean environment. Deep cleaning services help to eliminate any potential viruses or bacteria that may be lurking on surfaces within our homes or offices.
Moreover, Ajman's rapid urbanization has led to a high concentration of industrial activities in certain areas. This industrialization produces air pollutants such as dust particles which can enter buildings through open windows or air conditioning systems. Deep cleaning helps to remove these contaminants from surfaces, reducing indoor air pollution levels and promoting healthier living conditions.
Another important reason why deep cleaning is important for homes and businesses in Ajman is its ability to prolong the lifespan of furniture and fixtures. With frequent exposure to dust, dirt, and grime, household items such as carpets, upholstery fabric, or curtains can quickly deteriorate. Deep cleaning services can help to remove these pollutants and maintain the longevity of these items, saving you money in the long run.
For businesses, regular deep cleaning also plays a crucial role in maintaining a professional image and promoting employee satisfaction. A clean and well-maintained workplace creates a positive impression on clients and visitors, while also creating a healthier environment for employees to work in.
Why Selva Cleaning is Best?
As one of the leading cleaning companies in Ajman, Selva Cleaning prides itself on providing top-notch deep cleaning services to its clients. We understand that there are many other cleaning companies in Ajman, each with its own unique set of services and offers. However, we firmly believe that what sets us apart from the competition is our commitment to excellence, attention to detail, and impeccable customer service.
Here are a few reasons why choosing Selva Cleaning for your deep cleaning needs in Ajman is a decision you won't regret:
Highly Trained and Experienced Team:
At Selva Cleaning, we have a team of highly trained professionals who have years of experience in the cleaning industry. They undergo rigorous training programs to ensure that they are up to date with the latest techniques and tools for effective deep cleaning. Our team members are also background-checked and insured for your peace of mind.
Cutting-Edge Equipment and Products:
To provide high-quality deep cleaning services, we use only the best equipment and products available on the market. Our state-of-the-art equipment combined with eco-friendly cleaning products ensures thorough results without causing any harm to your property or the environment.
Customized Cleaning Solutions:
Unlike other one-size-fits-all approaches adopted by some cleaning companies, we understand that each space has unique needs when it comes to deep cleaning. That's why we offer personalized solutions tailored to meet your specific requirements while taking into consideration any budget constraints you may have.
Attention to Detail:
At Selva Cleaning, we believe in leaving no stone unturned when it comes to deep cleaning. Our team pays attention to even the smallest details to ensure that your space is spotless and free from any hidden dirt or germs.
Competitive Pricing:
We understand that affordability is a significant factor when choosing a cleaning company. That's why we offer our deep cleaning services at competitive prices without compromising on the quality of work.
Customer Satisfaction Guaranteed:
Our goal is to leave every client satisfied with our services. We go above and beyond to ensure that our clients are happy with the results, and if for any reason they are not, we will do everything in our power to make it right.
In conclusion, what sets Selva Cleaning apart from other cleaning companies in Ajman is our commitment to excellence, attention to detail, use of cutting-edge equipment and products, customization, competitive pricing, and unwavering focus on customer satisfaction. Contact us today for all your deep cleaning needs in Ajman!
The process and techniques used:
At Selva Cleaning, we take great pride in providing pristine and thorough deep cleaning services for homes and businesses in Ajman. Through our years of experience, we have perfected a process and techniques that guarantee exceptional results and customer satisfaction.
Step 1: Initial Assessment
Before diving, into the deep cleaning service, our team conducts an initial assessment of the space to determine the extent of cleaning required. This allows us to develop a tailored plan for each client based on their specific needs.
Step 2: Decluttering
The first step towards deep cleaning is decluttering. Our team will help you organize and get rid of unnecessary items to make the process more manageable. This ensures that all surfaces are accessible for thorough cleaning.
Step 3: Dusting
Next, we focus on dusting all surfaces including furniture, shelves, baseboards, light fixtures, and ceiling fans using high-quality microfiber cloths. This helps remove any accumulated dust or debris from hard-to-reach areas.
Step 4: Vacuuming
We use powerful vacuum cleaners with HEPA filters to remove dirt, dust mites, and allergens from carpets/rugs, upholstery, and other soft furnishings. Our team pays special attention to corners and edges where dirt tends to accumulate.
Step 5: Deep Clean Surfaces
Our experienced cleaners utilize suitable eco-friendly products that are safe for your family/pets while effectively removing tough stains from surfaces like kitchen counters, cabinets/shelves (inside & and out), sinks/tubs/toilets, and appliances.
Step 6: Mopping
Using microfiber mops, we clean and disinfect hard flooring surfaces to ensure they are germ-free. We also pay attention to grout lines and make sure they are thoroughly cleaned.
Step 7: Window Cleaning
We clean windows inside out using professional tools to achieve a streak-free finish. This includes wiping windowsills, frames, and tracks.
Step 8: Final Touches
To give your space an extra touch of freshness, we use air fresheners or essential oils upon request. Our team also wipes down all door handles/knobs, light switches, and removes any visible smudges on walls.
With our thorough deep cleaning process and techniques, we guarantee to leave your space spotless and sparkly clean.
Areas covered in deep cleaning services:
Deep cleaning services are essential to maintain a clean and healthy environment in your home or workplace. It involves thorough cleaning of every nook and corner, removing all the dirt, grime, and hidden bacteria that regular cleaning may miss. However, many people are still not aware of the wide range of areas that can be covered by professional deep cleaning services. In this section, we will discuss the different areas that can be covered in deep cleaning services for both residential and commercial spaces.
1) Residential Areas:
Residential properties require careful attention to detail when it comes to deep cleaning. Apart from the obvious areas like bedrooms, bathrooms, and kitchen, there are several other places that need special care and treatment. These include:
– Living Room:
The living room is the central area of any house where family members spend most of their time together. Therefore, it needs to be cleaned thoroughly to remove dust, dirt, and allergens from upholstery furniture such as sofas, curtain carpets, pets, or rugs.
– Bedrooms:
Deep cleaning services cover all bedrooms in a house which includes dusting furniture surfaces such as dressers and nightstands; vacuuming carpets or mopping hardwood floors; wiping down mirrors; and changing bed sheets and pillow covers.
– Kitchen:
The kitchen is one of the busiest rooms in a household where food preparation takes place daily. Hence deep cleaning service for the kitchen area should include degreasing countertops and appliances; scrubbing sink fixtures; wiping cabinets inside-outside rid them of grease build-up; and cleaning the microwave, refrigerator, and oven.
– Bathroom:
Bathrooms are hot spots for bacteria and germs due to constant moisture. Hence, deep cleaning services should include scrubbing toilet bowls, and bathtub/shower stalls; disinfecting washbasins or countertops from stains and grime; and cleaning faucets.
– Other Areas:
Apart from the above-listed spaces in a house, deep cleaning services may cover other areas such as the laundry room including appliances like washer/dryer where regular maintenance is critical for appliance longevity.
2) Commercial Spaces:
Commercial spaces demand effective site management coupled with a clean environment. Deep cleaning services extend beyond usual janitorial tasks that involve cleaning & and sanitizing restrooms; mopping hard-floor surfaces; taking out the trash and other sanitation work done daily. Some of these may include:
– High Traffic Areas:
These areas receive a high volume of traffic which includes elevator interiors, conference rooms, or breakrooms that require both dusting & and vacuuming/mopping hard floors considering the degree of foot traffic they bear every day.
– Reception/Office Areas:
The reception area creates another first impression when clients visit commercial spaces which need to be kept clean throughout the year. Office space is equally important considering employees spend most of their time there. Hence, deep cleaning services may include dusting office equipment such as desktops, printers, or fax machines; sanitizing surfaces and cleaning windows & and glass doors; etc.
– Hallways/Stairwells:
On-going traffic of employees at the workplace leads to constant dirt build-up in elevators, stairwells, and hallways. Deep cleaning is important to keep every path dust-free and germ-free by wiping surface areas of any obstructions.
– Cafeteria/Lounge Area/Breakroom:
These are recreational areas for employees where they take breaks or eat food during lunch hours. Cleaning worktables, coffee makers, sinks, and countertops in these spaces with all-purpose cleaners go together with regular janitorial tasks.
– Storage/Storage Rooms:
Regular disinfection helps prevent mold growth in storage rooms that hold key documents, hardware supplies, or other important items.
Benefits
There are numerous benefits to hiring a professional deep cleaning service like Selva Cleaning. In this section, we will discuss some of the key advantages of utilizing their services.
High-Quality Equipment and Products:
One of the primary benefits of hiring a professional deep cleaning service is the use of high-quality equipment and products. At Selva Cleaning, we pride ourselves on using advanced technology and top-of-the-line cleaning products that are specifically designed for deep cleaning. This ensures that your space is thoroughly cleaned and sanitized, leaving it fresh and safe for you and your family.
Experience and Expertise:
Professional cleaners at Selva Cleaning have extensive experience in delivering top-notch deep cleaning services to clients in Ajman. They are trained in using specialized techniques to clean even the most stubborn stains, dirt, grime, and dust from every nook and corner of your property. Their expertise guarantees exceptional results that go beyond what regular household cleaners can achieve.
Saves Time and Energy:
Deep cleaning can be an exhausting task that requires a significant amount of time, effort, and energy. By hiring a professional deep cleaning service like Selva Cleaning, you can free up your time to focus on other important tasks or simply relax while experts take care of all your cleaning needs efficiently.
Comprehensive Cleaning Services:
Unlike regular housekeeping services that only provide superficial surface-level cleaning, professional deep cleaners offer comprehensive solutions to eliminate all hidden germs, bacteria, allergens, and mold from various surfaces in your home.