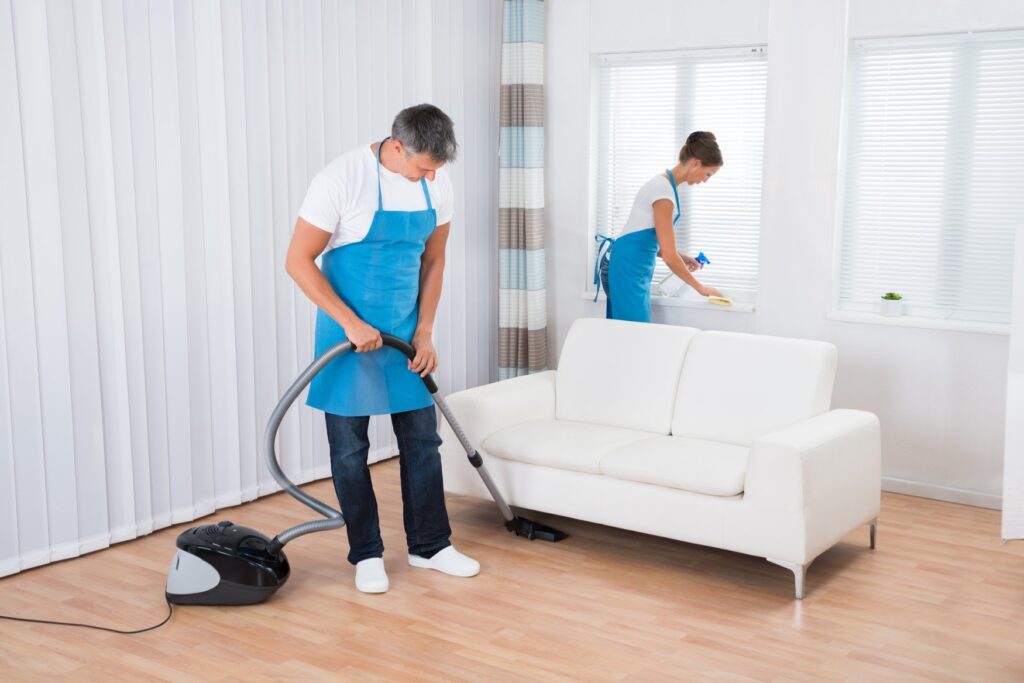 Welcome to the ultimate guide for all your villa maintenance needs in the UAE! Are you tired of spending endless hours trying to keep your luxurious abode in pristine condition? Look no further as Selva Cleaning presents a comprehensive manual tailored just for you. From sparkling floorboards to impeccable poolside areas, our experts have curated a treasure trove of tips and tricks to ensure your villa remains flawless year-round. Get ready to unlock the secrets behind effortless maintenance and discover why Selva Cleaning is the go-to solution for all your villa upkeep requirements. Let's dive into this transformative journey together!
What is Villa Maintenance?
Before diving into the details of villa maintenance services, it's important to understand what villa maintenance means. Essentially, it refers to all the activities involved in keeping your villa in good condition. This includes regular cleaning and upkeep as well as more extensive repairs when needed.
– Importance of maintenance for villas in UAE
Villas in the UAE are well-known for their luxurious and lavish designs, making them one of the most sought-after properties in the country. These stunning homes are not only a symbol of status but also offer a comfortable and upscale living experience. However, to maintain their pristine appearance and functionality, regular maintenance is crucial.
Here are some important reasons why maintenance is essential for villas in the UAE:
Preserve Property Value:
Just like any other property, villas in the UAE need regular upkeep to maintain their value. Neglecting maintenance can lead to degradation and damages that can significantly decrease the value of your villa. Regular maintenance ensures that all areas of your villa remain in top condition, keeping its value intact.
Prevent Expensive Repairs:
When it comes to villas, prevention is better than cure. By investing in regular maintenance services, you can identify potential issues early on before they escalate into costly repairs. For instance, an unnoticed leak can cause significant damage to your villa's structure if left unattended for too long.
Enhance Aesthetic Appeal:
The aesthetic appeal of a villa plays a crucial role in attracting potential buyers or guests and maintaining its overall value. Regular maintenance services such as deep cleaning, repainting walls or fixing broken fixtures help keep your villa looking beautiful and inviting.
Ensure Safety:
The safety and well-being of residents should always be a top priority when it comes to any property, including villas. Regular maintenance involves inspecting electrical systems, plumbing, and other safety features to ensure they are in good working condition. This reduces the risk of accidents and ensures the safety of those living in or visiting the villa.
Extend Lifespan:
Proper maintenance can significantly increase the lifespan of your villa's components and systems. Regular cleaning, servicing, and repairs will help keep them functioning at their optimal level, thus avoiding premature replacements that can be costly.
Comply with Regulations:
In the UAE, there are specific regulations and standards for maintaining properties, such as fire safety codes and building regulations. Failure to comply with these regulations can result in penalties or fines. Regular maintenance ensures that your villa meets these standards, keeping you compliant with the law.
Services Offered by Selva Cleaning
Deep Cleaning:
Regular deep cleaning is essential for maintaining a clean, healthy, and hygienic environment. At Selva Cleaning, we use advanced equipment and eco-friendly products to ensure thorough deep cleaning of all areas in your villa.
General Cleaning:
From dusting and mopping to vacuuming carpets and furniture, their general cleaning services cover all aspects of surface-level cleaning. We also pay special attention to high-traffic areas and commonly used spaces, making sure no corner is left untouched.
Window & Glass Cleaning:
Clean windows can instantly improve the appearance of your villa, allowing more natural light into your living space. The experts at Selva Cleaning use professional-grade equipment and techniques to leave your windows sparkling clean.
Floor Care:
Your floors endure daily wear and tear from foot traffic, spills, and stains – which makes regular floor care vital for maintaining their pristine appearance. Selva Cleaning offers a range of floor care services, including scrubbing, polishing, and sealing, to keep your floors looking their best.
Upholstery Cleaning:
Professional upholstery cleaning not only enhances the aesthetics of your furniture but also extends its lifespan. Selva Cleaning uses industry-approved methods to remove dirt, grime, and stains from your upholstery without damaging the fabric.
Pressure Washing:
Stubborn stains and dirt build-up on outdoor surfaces can be challenging to remove with traditional cleaning methods. Selva Cleaning's pressure washing services are an effective way to eliminate tough stains and give your villa's exterior a thorough clean.
Overall, Selva Cleaning provides top-quality cleaning services that meet the highest standards of excellence. Whether you need regular maintenance or a one-time deep clean, we have the expertise and resources to handle all your villa cleaning needs with efficiency and professionalism.
– Background of the company
Selva Cleaning is a leading villa maintenance service provider based in the United Arab Emirates (UAE). With years of experience and expertise, our company has helped numerous homeowners across the UAE maintain their villas in top-notch condition. We understand that owning a villa is a significant investment, and it requires regular upkeep to retain its value and appeal.
Founded by a team of dedicated professionals with a passion for providing high-quality services, Selva Cleaning has grown from a small start-up to an established name in the industry. Our commitment to excellence and customer satisfaction has helped us build long-term relationships with our clients and establish ourselves as one of the most reliable villa maintenance companies in the UAE.
Our Mission:
At Selva Cleaning, our mission is to provide comprehensive villa maintenance services that meet the highest standards of quality, reliability, and efficiency. We strive to exceed our client's expectations by delivering tailor-made solutions that are specifically designed to meet their needs. Whether you need basic cleaning services or more advanced repairs and renovations, we have got you covered.
Our Services:
We offer a wide range of villa maintenance services to cater to all your needs. Our team consists of skilled professionals who are trained in various aspects of property maintenance, including cleaning, repair works, renovation projects, and landscaping services. We understand that each client's requirements may vary; therefore, we offer customized packages that are flexible and can be tailored according to your specific needs.
Range of villa maintenance services offered
At Selva Cleaning, we understand that maintaining a villa can be a challenging task for homeowners in the UAE. That's why we offer a comprehensive range of villa maintenance services to ensure your property stays in pristine condition all year round. Our team of skilled professionals provides top-notch services that meet your specific needs and budget.
Here are some of the key villa maintenance services offered by Selva Cleaning:
1) Regular Cleaning:
Our team will keep your entire villa clean and tidy with our regular cleaning services. From dusting and mopping to vacuuming and disinfecting, we will take care of every nook and corner of your home.
2) Deep Cleaning:
We also offer deep cleaning services which involve thorough cleaning of hard-to-reach areas such as behind furniture, under appliances, and inside cabinets. This service is recommended at least once or twice a year to maintain the overall hygiene and cleanliness of your villa.
3) HVAC Maintenance:
Maintaining the air quality in your home is crucial for your family's health. Our team will inspect, clean, and service your HVAC system to ensure it operates efficiently while filtering out allergens and pollutants from the air.
4) Plumbing Services:
From leaky faucets to clogged drains, our plumbing experts can handle all sorts of issues in a timely manner. We use advanced equipment for detecting leaks and employ eco-friendly methods for drain cleaning.
5) Electrical Maintenance:
Our experienced electricians are well-equipped to deal with any electrical problems you may encounter in your villa. We conduct a thorough inspection of your electrical systems and fix any issues to ensure safety and efficiency.
6) Landscaping and Gardening:
Our team also offers landscaping and gardening services to maintain the outdoor areas of your villa. From lawn mowing and pruning to pest control, we take care of all aspects of garden maintenance.
7) Pool Cleaning:
If you have a pool in your villa, our trained professionals can keep it clean and sanitized for you. We use state-of-the-art equipment and cleaning techniques to ensure your pool is safe for swimming.
Benefits of Hiring Professional Villa Maintenance Services
There are many benefits to hiring professional villa maintenance services for your property in the UAE. Here are some of the key advantages that come with relying on a reputable and experienced company like Selva Cleaning:
Expertise and Experience:
Professional villa maintenance service providers have years of experience and expertise in handling different types of properties, including villas. They know the best practices, tools, and techniques to keep your villa in pristine condition. By hiring them, you can trust that every aspect of your property will be taken care of with precision and care.
Saves Time and Effort:
Maintaining a villa involves a lot of work such as landscaping, cleaning, repairs, etc., which can be tedious and time-consuming for homeowners or landlords. By hiring professional services, you can free up your time and focus on other tasks while knowing that your property is being taken care of by experts.
Regular Maintenance Schedule:
A major advantage of subscribing to professional villa maintenance services is having a regular schedule for maintaining your property. This takes away the hassle of remembering when certain areas need attention or when certain systems need servicing – everything will be handled according to an established maintenance plan.
Cost-Effective:
Although it may seem like an added expense at first, hiring professional villa maintenance services can save you money in the long run. With regular upkeep and timely repairs from experts, potential issues can be identified early on before they become more costly problems down the line.
High-Quality Services:
When choosing a reputable villa maintenance company, you can expect high-quality services that exceed your expectations. With years of experience, knowledge, and technical expertise, professionals will ensure that your property is always kept in top condition.
– Time and Cost-Efficient
When it comes to maintaining your villa in UAE, time and cost are two crucial factors that cannot be overlooked. With the fast-paced lifestyle and rising expenses in the country, it is essential to find efficient ways to manage the maintenance of your villa without compromising on quality.
At Selva Cleaning, we understand the value of your time and money. Our villa maintenance services are designed to help you save both by providing timely and cost-effective solutions for all your property maintenance needs.
Time-Efficient Services:
Our team at Selva Cleaning strives to provide quick and efficient solutions that match your busy schedule. We offer a wide range of services that cover everything from general cleaning to specialized tasks like plumbing, electrical works, carpentry, painting, and more.
We take pride in our skilled and knowledgeable staff who can efficiently manage any repair or maintenance work with precision and speed. This not only saves you valuable time but also ensures that the job is done right the first time.
Moreover, we understand that emergencies can arise anytime. Therefore, we offer 24/7 emergency services to address any urgent maintenance needs that may come up unexpectedly. With our prompt response times and quick solutions, you can have peace of mind knowing that your villa is well taken care of even during unforeseen situations.
Cost-Effective Solutions:
As one of the leading villa maintenance service providers in the UAE, we are committed to offering high-quality services at affordable prices. We understand how expensive it can be to own a property in this region, which is why we have customized our services to suit your budget.
At Selva Cleaning, you only pay for the services you need. Our efficient cleaning and maintenance techniques enable us to complete the work quickly, saving you valuable time and cost. We also use high-quality products that guarantee impressive results at an affordable price.
We keep our pricing transparent and do not charge any hidden costs. Before we commence on a villa maintenance project, we provide you with a detailed quotation outlining all the services required along with their corresponding costs.
With Selva Cleaning, you no longer have to stress about spending excessively on property maintenance. Our team of experts has the right knowledge and tools to ensure that your villa remains in good condition without breaking your budget.
– Quality Workmanship
Quality workmanship is the cornerstone of any successful villa maintenance service in UAE. It goes beyond simply completing tasks and involves a strong commitment to delivering exceptional results that exceed client expectations. At Selva Cleaning, we pride ourselves on our skilled team of professionals who prioritize quality workmanship in all aspects of their services.
But what exactly does quality workmanship mean when it comes to villa maintenance? Here are some key elements that make up this crucial aspect of our services:
Experienced and Trained Professionals:
Our team comprises highly trained and experienced individuals who are experts in various aspects of villa maintenance such as plumbing, electrical work, repairs, cleaning, and more. They have the necessary technical knowledge and skills to effectively handle any task with precision and efficiency.
Attention to Detail:
We understand the importance of paying attention to even the smallest details when it comes to maintaining your villa. That's why we ensure that every nook and cranny is thoroughly cleaned and inspected during our maintenance services.
Use of High-Quality Products and Tools:
To achieve top-notch results, we only utilize high-quality products and tools during our maintenance services. From cleaning solutions to repair materials, everything we use is carefully selected for its effectiveness in delivering lasting results.
Seamless Communication:
Effective communication is essential for ensuring quality workmanship in villa maintenance services. Our team ensures clear communication with clients at each stage of the process – from initial consultation to project completion – to ensure that their requirements are met satisfactorily.
– Guaranteed Results and Expertise
When it comes to maintaining your villa in the UAE, one of the most important factors to consider is hiring a reliable and professional cleaning service. With so many options available, it can be overwhelming to choose the right one for your specific needs. That's why at Selva Cleaning, we offer guaranteed results and expertise that set us apart from others in the industry.
Our team of experienced cleaners are highly trained and equipped with the latest tools and techniques to ensure top-notch quality services for your villa. We understand that every client has different expectations and requirements, which is why we tailor our services to meet your specific needs.
Guaranteed Results: At Selva Cleaning, we take pride in delivering exceptional results every time. We have built a reputation for ourselves by consistently providing high-quality services that exceed our clients' expectations. Our commitment to excellence is reflected in our stellar customer reviews and high client satisfaction rates.
We guarantee that when you hire us for your villa maintenance needs, you can expect nothing less than excellent results. From spotless floors to sparkling windows, we leave no stone unturned when it comes to ensuring a clean and well-maintained villa for our clients.
Expertise: Our team consists of skilled professionals who have extensive experience in cleaning villas of all sizes and types. From luxurious villas on Palm Jumeirah to standard villas in residential communities, our expert technicians can handle any cleaning task with ease.
Areas Covered by Selva Cleaning's Villa Maintenance Services
At Selva Cleaning, we understand the importance of maintaining a clean and well-maintained villa in the UAE. Our villa maintenance services cover a wide range of areas to ensure that your villa remains in top condition throughout the year.
General Cleaning:
Our team of experienced professionals is trained to provide thorough cleaning services for your entire villa. From dusting and vacuuming to mopping and wiping, we cover all areas including living spaces, bedrooms, bathrooms, kitchen, and outdoor areas.
Deep Cleaning:
In addition to regular cleaning services, we also offer deep cleaning for those hard-to-reach places that require extra attention. This includes high ceiling fans and lighting fixtures, behind appliances and furniture, as well as grout lines in tiles.
Kitchen Maintenance:
The kitchen is often considered the heart of a home and requires special care to ensure it is kept hygienic at all times. Our villa maintenance service includes deep cleaning of ovens, refrigerators, countertops, cabinets, sinks, and other kitchen appliances.
Bathroom Maintenance:
Maintaining a clean bathroom is essential for both hygiene and aesthetics. Our team pays close attention to detail while cleaning toilets, bathtubs/shower stalls, mirrors/sinks/countertops, tiles/grout lines/walls/floors.
Floor Care:
Flooring can easily get dirty due to foot traffic or accidental spills – especially with marble or any other type of natural stone floors commonly used in villas across the UAE. We use specific techniques for each type of flooring to ensure that they are left spotless and well-maintained.
Window Cleaning:
Clean windows are crucial for maintaining a bright and inviting villa. Our team uses eco-friendly solutions and professional equipment to remove dust, grime, and stubborn stains from your windows, leaving them sparkling clean.
Furniture Care:
Whether you have wooden or upholstered furniture, our villa maintenance service includes dusting, wiping, and conditioning to keep them looking their best.
AC Duct Cleaning:
Cleaning the AC ducts is an essential part of maintaining a healthy and comfortable living space in the UAE's climate. Our services include thorough cleaning of all AC vents, registers, filters, fans etc. to minimize the risk of allergies and respiratory issues due to accumulated dirt, dust & and debris.
Pest Control:
Keeping your villa free from pests such as cockroaches, ants or termites is important for the health & and safety of yourself & and your family. Our professionals use safe methods to keep pests at bay while also taking care not to damage any property.
– Exterior Cleaning Services (Pool, Garden, Patio,
The exterior of your villa is the first thing guests see when they arrive. It is also where you and your family spend most of your time relaxing and enjoying the beautiful weather in UAE. Therefore, it is important to always keep the exterior of your villa clean and well-maintained.
At Selva Cleaning, we understand that maintaining the exterior of a villa can be a time-consuming and labor-intensive task. That's why we offer comprehensive exterior cleaning services to take care of all your outdoor maintenance needs. Our professional team uses top-of-the-line equipment and eco-friendly cleaning products to ensure that your pool, garden, patio, and other outdoor areas are spotless.
Pool Cleaning:
Having a private pool is one of the best perks of living in a villa. However, regular maintenance is crucial to keep the water clean and safe for swimming. Our pool cleaning service includes skimming leaves and debris from the surface, brushing walls and tiles, vacuuming floors, checking pH levels, and adding necessary chemicals to maintain balance.
Our team also pays close attention to filters, pumps, and other equipment for any repairs or replacements needed. We use environmentally friendly solutions that don't harm sensitive skin or affect the quality of water in any way.
Garden Maintenance:
A lush green garden adds beauty to your home's exterior while providing a peaceful escape from city life. Maintaining a garden requires constant pruning, watering, fertilizing, pest control measures among other tasks . Our skilled technicians specialize in handling a variety of plants, trees, and lawns to keep your garden healthy and vibrant throughout the year.
We understand that every garden is unique, and our team works closely with you to develop a customized maintenance plan based on your specific requirements.
Patio Cleaning:
The patio is where you unwind, relax, and host guests. It's not uncommon for patios to get dirty quickly due to exposure to dust, leaves, animal droppings and other elements. At Selva Cleaning, we offer professional patio cleaning services that involve pressure washing to remove stubborn stains or dirt buildup without damaging the surface.
We also clean outdoor furniture including tables, chairs, umbrellas etc. using gentle cleaning solutions that won't cause any discoloration or damage.
At Selva Cleaning Services, we aim to provide top-notch exterior cleaning services to keep your villa looking its best all year round.