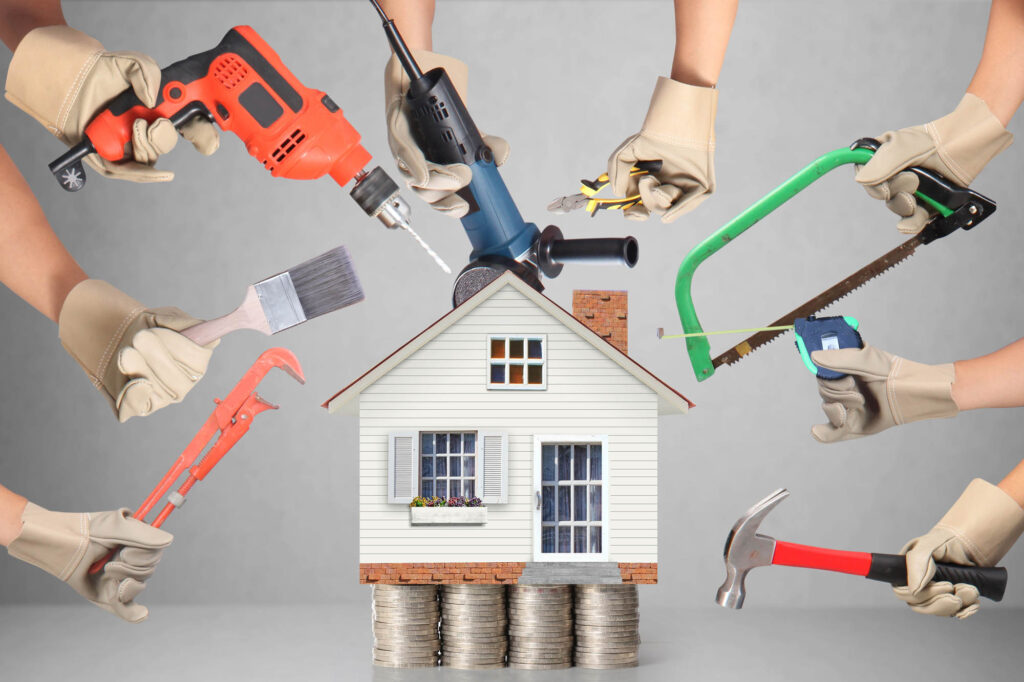 Are you tired of spending precious weekends scrubbing floors and dusting shelves? Do you dream of a spotless home without lifting a finger? Look no further, because Selva Cleaning is here to revolutionize your home maintenance experience in Dubai. With our unmatched expertise, exceptional customer service, and cutting-edge technology, it's no surprise that Selva Cleaning has become the top choice for countless homeowners across the city. Discover why more and more people are entrusting their homes to this renowned cleaning company and say goodbye to tedious chores once and for all!
Why home maintenance is important in Dubai:
In Dubai, home maintenance is a crucial aspect of maintaining a clean, functional, and safe living space. The hot and humid climate, along with the constant exposure to sand and dust, can take a toll on your home's structure and systems. That is why it is essential to invest in regular home maintenance services to ensure that your property remains in top condition.
Here are some specific reasons why home maintenance is crucial in Dubai:
Prevent Damage from Extreme Weather Conditions:
Dubai experiences extreme weather conditions throughout the year, with scorching heat during summers and heavy rains during winters. These conditions can cause significant damage to your home if not properly maintained. For instance, excessive heat can cause cracks in walls or lead to air conditioning breakdowns, while heavy rains can result in leakages or water damage. Regular inspections and necessary repairs can help prevent such damages before they become severe.
Protect Against Sand & Dust Buildup:
Dubai's location in the desert means that sand and dust are constantly blowing around and may accumulate inside homes through doors, windows, or vents. This buildup can clog air filters, damage electronics, and even affect the overall air quality within your home. Regular cleaning and maintenance of HVAC systems are essential to keep these particles at bay.
Ensure Proper Functioning of Systems & Appliances:
With soaring temperatures most months of the year, air conditioners are a necessity rather than a luxury in Dubai. Similarly, hot water heaters (especially during winters) play an essential  role in daily activities. Regular maintenance of these systems ensures they are functioning efficiently and help prevent any breakdowns or additional expenses for repairs.
Maintain Property Value:
Regular home maintenance not only helps to keep your property in top condition but also adds value to it. A well-maintained home will not only impress potential buyers if you ever decide to sell but also reduces the risk of structural damage, which can be costly to fix.
Increase Energy Efficiency:
As mentioned earlier, Dubai can get extremely hot during summers, resulting in high electricity bills due to air conditioning use. However, a well-maintained home with proper insulation and ventilation can save you energy and reduce your utility costs.
Ensure Safety for Residents:
Homes that are not regularly maintained may pose safety risks to their residents. For instance, mold growth due to excess moisture can lead to health issues, or an electrical malfunction can cause fires. Such hazards are easily avoidable through regular maintenance checks and necessary repairs.
What sets Selva Cleaning apart?
Selva Cleaning is a home maintenance company in Dubai that stands out from its competitors for several reasons. As a leading provider of professional and reliable home maintenance services, Selva Cleaning has become the top choice for homeowners all over Dubai. In this section, we will delve into the factors that set Selva Cleaning apart from other home maintenance companies in Dubai.
Quality Services:
At Selva Cleaning, our priority is to provide high-quality services to our clients. Our team of trained professionals uses top-of-the-line equipment and techniques to ensure that your home is maintained to the highest standards. We take immense pride in the quality of our work and go above and beyond to exceed our client's expectations.
Customized solutions:
Every homeowner's needs are unique, and we understand this very well at Selva Cleaning. That's why we offer customized solutions tailored to each client's specific requirements. Whether it's regular maintenance or one-time services, we work closely with our clients to develop a personalized plan that suits their budget and preferences.
Experienced Staff:
Our team comprises experienced professionals who have extensive knowledge in the field of home maintenance. They undergo rigorous training programs to keep up with industry standards and use their expertise to handle all kinds of house repair and cleaning tasks efficiently.
Complete Range of Services:
Unlike other companies that specialize solely in one aspect (plumbing or electrical repairs), Selva Cleaning offers a comprehensive range of services under one roof. From plumbing, electrical repairs, AC servicing, and cleaning to gardening, pest control, and handyman services – we have got you covered.
Timely Services:
We understand the value of our clients' time, and therefore, strive to deliver all our services on time without compromising on quality. Our team is prompt in responding to queries and always arrives at the scheduled time for appointments.
Affordable Prices:
At Selva Cleaning, we believe that home maintenance services should be accessible to everyone. That's why we offer cost-effective solutions without compromising on the quality of our work. Our transparent pricing policy ensures that our clients are aware of all costs involved upfront.
Focus on Customer Satisfaction:
Customer satisfaction is at the core of everything we do at Selva Cleaning. We take every client's feedback seriously and use it to continuously improve our services. It is this commitment to customer satisfaction that has helped us build a loyal customer base over the years.
Prompt Communication:
At Selva Cleaning, we understand that communication plays a key role in delivering exceptional service. That's why we have a dedicated team available round-the-clock to address any queries or concerns you may have regarding our services.
Services offered by Selva Cleaning
Selva Cleaning is a leading provider of home maintenance services in Dubai, offering a wide range of professional cleaning services to meet all your household needs. Our team provides exceptional service and ensures a clean, healthy living environment for you and your family.
With years of experience in the industry, Selva Cleaning has established itself as a trusted brand known for its reliable and high-quality services. We understand that every home is unique and has different cleaning requirements, which is why we offer customizable packages that cater to the specific needs of our clients.
Here are some of the top-notch services offered by Selva Cleaning:
Regular House Cleaning:
Our regular house cleaning service includes thorough dusting and vacuuming of all rooms, mopping floors, wiping down surfaces, sanitizing bathrooms, and kitchens, and more. Our highly trained cleaners use eco-friendly products and techniques to ensure your home is sparkling clean without any harsh chemicals.
Deep Cleaning:
For a more extensive clean, we offer deep cleaning services that cover every nook and corner of your house. This includes all the tasks in our regular house cleaning service as well as detailed cleaning of appliances like ovens and refrigerators, scrubbing grout lines, washing windows from inside/outside (if applicable), spot-cleaning walls/doors/cabinets/ceiling fans/tiles/carpet stains, etc.
Move-in/Move-out Cleaning:
Moving can be stressful enough without having to worry about deep cleaning the property you're leaving or moving into. Our move-in/move-out cleaning service ensures that your old or new home is thoroughly cleaned and ready for the next tenant. This includes all tasks in our deep cleaning service as well as detailed cleaning of cupboards, shelves, drawers, inside the oven, behind appliances, and more.
Post-Construction Cleaning:
We understand that construction projects can be messy and leave a lot of dust and debris behind. Our post-construction cleaning service takes care of removing all traces of construction material and ensuring your newly renovated space is spotless and ready to move into.
Carpet & Upholstery Cleaning:
We offer professional carpet & upholstery cleaning services to keep your carpets, rugs, curtains, and furniture looking fresh and clean. Our team uses advanced equipment and techniques to remove dirt, stains, allergens, and odors from your soft furnishings.
Maid Services:
Our experienced maids are trained to handle a variety of household chores such as laundry, ironing, dishwashing, pantry organization, etc., allowing you to relax and spend more time with your family.
Party/Event Cleanup:
Hosting a party or event at home can be exhausting enough without having to deal with the aftermath. Let us take care of  the cleanup for you so that you can enjoy your guests without worrying about the mess.
In addition to these, we also offer specialized services such as window cleaning, mattress cleaning, and disinfection services. Whatever your home cleaning needs may be, Selva Cleaning has got you covered with our professional and reliable services.
– Cleaning and disinfection services
Cleaning and disinfection services are essential for maintaining a healthy and hygienic home environment. In today's fast-paced world, where people have busy schedules, it can be challenging to keep up with regular cleaning and disinfection tasks. This is where Selva Cleaning comes in as the top choice for professional home maintenance services in Dubai.
At Selva Cleaning, we understand the importance of having a clean and germ-free living space. Our team of experts is trained to provide high-quality cleaning and disinfection services that cater to all your specific needs. We use eco-friendly products and advanced equipment to ensure an efficient and safe cleaning process.
Our cleaning services cover all areas of your home, including bathrooms, bedrooms, kitchen, living room, dining area, etc. We pay attention to every nook and corner to ensure thorough cleaning. Our team will dust, vacuum, mop floors, wipe down surfaces, scrub tiles and grout if necessary, leaving your home spotless.
In addition to general house cleaning services, we also specialize in deep-cleaning tasks such as carpet cleaning and upholstery cleaning. We have the expertise to handle delicate fabrics and remove tough stains using non-toxic yet effective methods.
But our commitment does not stop at just surface-level cleanliness; we also prioritize the importance of disinfection in keeping your home free from harmful germs and bacteria. We use hospital-grade disinfectants that kill 99% of germs on contact while being safe for you and your family.
We understand that each household  is unique, and so are their cleaning and disinfection needs. That is why we offer customizable service packages, including one-time cleaning services or recurring appointments based on your preference.
Take a step towards a cleaner and healthier home by booking Selva Cleaning's professional cleaning and disinfection services in Dubai. Our team will take care of all your home maintenance needs, giving you more time to relax and enjoy your sparkling clean living space!
– Handyman services
From minor repairs to major renovations, our team of skilled handymen is equipped to handle any task with precision and efficiency. With years of experience in the industry, we have built a reputation for providing reliable and high-quality services to residents across Dubai.
One of the primary reasons why Selva Cleaning stands out as the top choice for handyman services in Dubai is our commitment to customer satisfaction. We understand that every homeowner has unique needs and that's why we customize our services to meet those specific requirements. Whether it's a small repair job or a complete renovation project, we treat each task with equal importance.
Our team comprises highly trained professionals who have expertise in various areas such as plumbing, electrical work, carpentry, painting, and more. This diverse skill set allows us to offer a wide range of handyman services to cater to all aspects of your home maintenance needs.
We also prioritize safety in our work. Our handymen are well-versed in current health and safety regulations and adhere strictly to them while carrying out their tasks. Additionally, we use only quality materials and tools for all our projects, ensuring long-lasting results that you can rely on.
– Pest control
Pest control is an essential aspect of maintaining a clean and healthy home. Not only can pests cause damage to your property, but they also pose serious health risks for you and your family. That's why we at Selva Cleaning offer top-notch pest control services as part of our comprehensive home maintenance package. Here's why we stand out from the rest when it comes to pest control:
Effective solutions:
Our team of experienced technicians are trained in identifying and eliminating a wide range of pests, including cockroaches, termites, ants, rodents, and more. We use safe and effective methods that have been proven to be successful in eradicating pests from homes. Our goal is not just to get rid of the current infestation but also prevent future reoccurrences.
Environmentally friendly:
At Selva Cleaning, we understand the importance of using environmentally friendly products in our cleaning processes. That's why our pest control methods involve using eco-friendly products that are safe for both humans and pets while effectively targeting pests.
Customized approach:
Every home is different, and so are the pest problems they face. That's why we don't believe in applying a one-size-fits-all solution for our clients' homes. Our team conducts a thorough inspection of your property before developing a customized plan tailored to your specific needs.
Timely service:
Dealing with pests can be stressful, especially if the infestation has reached an advanced stage. At Selva Cleaning, we  understand the urgency of the situation and strive to provide timely service to our clients. We also offer emergency services for severe infestations.
Long-term prevention:
Our goal is not just to eliminate pests in the short term, but also to prevent them from coming back in the future. We work with our clients to educate them on proper sanitation practices and identify potential entry points for pests. This helps in creating a long-term solution for pest control.
– Landscaping and gardening
Landscaping and gardening are essential components of home maintenance, as they not only enhance the aesthetic appeal of a property but also add value to it. At Selva Cleaning, we understand the importance of a well-maintained outdoor area and offer top-notch landscaping and gardening services in Dubai.
Our team at Selva Cleaning is composed of experienced professionals who are trained in the latest techniques and equipment to provide quality landscaping and gardening services. We pride ourselves on our attention to detail and dedication to creating beautiful outdoor spaces that meet our clients' specific needs and preferences.
We offer a wide range of landscaping services, including designing outdoor spaces, planting flowers, shrubs, and trees, installation of irrigation systems, lawn maintenance, hardscaping (patios, walkways), and more. Our team works closely with clients to create personalized designs that reflect their style while also considering factors such as climate, soil conditions, and budget.
In addition to landscaping services, we also provide expert gardening services for maintaining healthy plants throughout the year. Our team has extensive knowledge of various plant species commonly found in Dubai's climate. They can advise on proper plant selection based on weather conditions, watering schedules suitable for plants' growth stage and install pest control measures if necessary.
At Selva Cleaning, we use eco-friendly methods for maintaining your garden without harming the environment. From using organic fertilizers to implementing sustainable water management practices through drip irrigation systems or rainwater harvesting techniques- we prioritize environmental conservation while ensuring a beautiful outdoor space for  our clients.
With our comprehensive landscaping and gardening services, you can transform your outdoor space into a vibrant and beautiful setting that fits your lifestyle. Contact us today to learn more about our services and how we can help you maintain a stunning landscape for your property in Dubai.
How Selva Cleaning ensures quality:
At Selva Cleaning, ensuring quality and satisfaction for our customers is one of our top priorities. We understand that a clean and well-maintained home is essential for the comfort and happiness of our clients, which is why we go above and beyond to deliver exceptional service every time.
Here are some ways in which we ensure quality and satisfaction for our valued customers:
Highly trained and experienced staff:
Our cleaning professionals are handpicked after a rigorous selection process to ensure that they meet our high standards of excellence. They undergo comprehensive training in various cleaning techniques and are equipped with the latest tools and equipment to provide efficient and effective services.
Customized cleaning plans:
We understand that every home is unique, with different cleaning needs. That's why we work closely with our customers to develop personalized cleaning plans tailored to their specific requirements. Whether it's a one-time deep clean or a weekly maintenance service, we make sure to address all areas of concern as per the client's preferences.
Use of eco-friendly products:
At Selva Cleaning, we are committed to using environmentally friendly cleaning products that are safe for both your family and the planet. Our team utilizes natural cleansers and steam cleaning methods wherever possible, eliminating harsh chemicals from your living space while still achieving excellent results.
Affordable pricing options
At Selva Cleaning, we understand the importance of providing top-notch home maintenance services at an affordable price. That is why we offer a variety of pricing options to cater to every budget and need. Our goal is to make professional home maintenance services accessible and affordable for everyone in Dubai.
One of our most popular pricing options is our package deals. We have carefully curated packages that include a range of essential home cleaning and maintenance services at discounted prices. These packages are perfect for those who want thorough and regular maintenance but also want to save some money.
For those who prefer customizing their own package, we also offer a flexible pricing option where you can pick and choose from our list of services based on your specific needs. This allows you to pay for only the services that you require, ensuring that you get the most value for your money.
We also have hourly rates for smaller cleaning jobs or one-time services such as deep cleaning or post-construction clean-up. These rates are competitively priced, making them an ideal choice for anyone on a budget or looking for occasional maintenance services.
Additionally, Selva Cleaning offers special discounts and promotions throughout the year. Be sure to follow us on our social media platforms and sign up for our newsletter to stay updated on these amazing deals.
Sustainable and eco-friendly practices
Selva Cleaning prides itself on being a sustainable and environmentally-friendly home maintenance service. We understand the importance of preserving our planet for future generations, and that is why we have incorporated sustainable practices in every aspect of our business.
One of the key ways in which we promote sustainability is through our cleaning products. We use only eco-friendly and non-toxic cleaning agents that are safe for both your home and the environment. These products not only keep your living space free from harmful chemicals, but they also leave behind a fresh, natural scent without any artificial fragrances.
In addition to using eco-friendly cleaning products, Selva Cleaning also emphasizes water conservation. We believe that every drop counts, and that is why we have implemented practices such as using microfiber cloths for cleaning instead of traditional mops or sponges. Microfiber cloths are highly absorbent and require less water to clean effectively. Furthermore, we use steam cleaners whenever possible to reduce excessive water usage.
Another way in which Selva Cleaning promotes sustainability is through waste management. We follow strict recycling protocols to ensure proper disposal of all waste materials generated during our services. This includes separating recyclable items such as paper, plastic, and glass from general waste materials.
As part of our commitment to sustainability, Selva Cleaning also makes efforts to reduce its carbon footprint. All our cleaning technicians are trained on efficient driving techniques to minimize fuel consumption while traveling between appointments. Moreover, we encourage carpooling among employees who live close by to further reduce  our carbon emissions.
We understand that sustainable practices not only benefit the environment but also contribute to a healthier and safer living space for your family. By choosing Selva Cleaning, you can be assured that your home will be cleaned using the best eco-friendly products and methods, without compromising on the quality of our services.